Another great accomplishment by one of our students, breaking a new world record and beating the previous world records: world's first pilot school that successfully broke the world record in printing the world's fastest Commercial Pilot Instrument, in just 115 days with the USA FAA (Federal Aviation Administration) license and the Indonesian pilot who successfully graduated in 115 days was Farandi Angesti, 19, who graduated in May 2018. Now, the title has been taken by Jiva Ananthan Viseikumaran who completed his Commercial Pilot with Instrument Rating in only 80 days!
Firstly, let's rewind to the beginning of his story. Jiva Ananthan is a Singaporean Army Captain who became a student of 14DAYPILOT Flight Academy taking the Airline Pilot Integrated Training program that averagely takes 115 days to complete. His story began with a series of intensive trainings done in the country of Indonesia for his preparation class. Afterwards, he flew to Los Angeles to undergo his flight training in Van Nuys Airport, California and did his Private Pilot examination in Oxnard, California.
Jiva's first step of the APIT training is to undergo his Private Pilot License (PPL) training, and then continuing with the Instrument Rating (IR) training where he learnt to fly using instruments. His next step falls upon the Commercial Pilot License (CPL) stage along with the Multi-Engine Rating (MER) training. Altogether, this would take 115 days which is a much lower sum compared to the hefty one year period of time taken just to get the Commercial Pilot training syllabus done and over with.
Initially, Jiva Ananthan has had to undergo a course of ground training in Indonesia where he joined the Pass Oral Exam System (POES) program, trained by instructors Johan Faizan, AGI and Capt. Gema Goeyardi, CFI, CFII, MEII, IGI. Jiva spent a total of 29 days in Indonesia in which he spent his time training in flight simulators for an overall time period of 50 hours and preparing for his written and oral exam done in the USA. Jiva trained everyday from 9 am to 10 pm with no day offs, even on Sundays! Such dedication!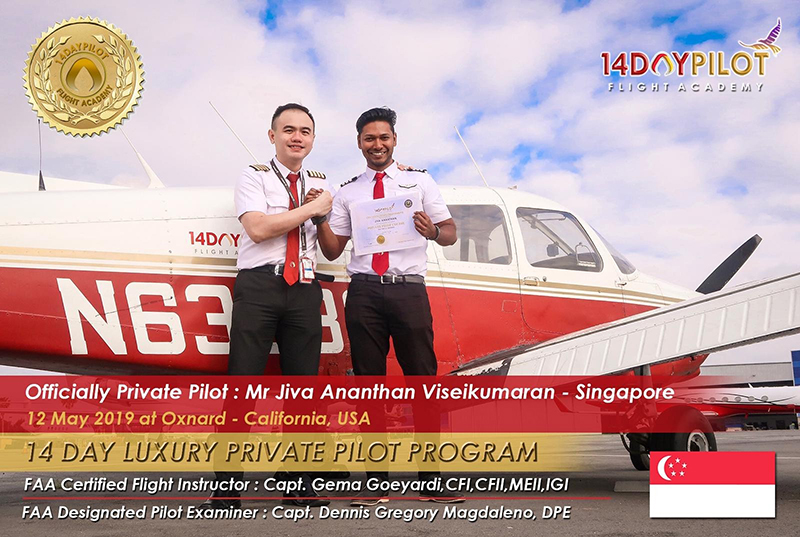 Upon completing his ground training, Jiva then flew to USA, more specifically Los Angeles, California to begin his flight training and complete his written and oral examinations. With this being said, Jiva Ananthan has passed his PPL written examination with an incredible score of 95% on. Due to this, Jiva began flying for the first time on April 9th, 2019, with his senior instructor, Gold Seal Capt. Daniel Reed, CFI, CFII, MEII.
Solo Flight: First solo and cross country
By showing his enthusiasm in the program through his hard work and determination, Jiva, undoubtedly, was released for his first solo flight early on in his training, a certain aspect that is aimed by 14DAYPILOT Flight Academy for each and everyone of their students.
After only 5 days of flight trainings, days required to master landings and manoeuvres, he completed his first solo flight on April 16th, 2019 in Van Nuys Airport, California - KVNY where he was released for his solo flight by Capt. Daniel Reed, CFI, CFII, MEII.. Thereupon, Jiva had to prepare for his upcoming check ride with his FAA examiner, Capt. Dennis Gregory Magdaleno, DPE.
One of the requirements needed to obtain a Private Pilot License (PPL) is that the applicant needs to complete a SOLO Cross Country flight with a total straight-line distance of 150 nm. Jiva smoothly completed his cross country flight and swiftly moved on to the next stage of his course.
The day every pilot awaits has finally arrived. Jiva has prepared for this moment long and hard, training for hours on end daily. With all the requirements in hand, Jiva is ready to face the exam. After 2 weeks of flight training, Jiva underwent his check-ride in Oxnard California, evaluated by the FAA Designated Pilot Examiner, Capt. Dennis Gregory Magdaleno, DPE.
On 12 May, 2019, Jiva passed his PPL check-ride on his first attempt! He answered each and every question for his Oral examination smoothly and did very well on all of the flight examination portion. The oral examination has been part of his preparation since the beginning of his training as part of the Pass Oral Exam System (POES) that was specifically designed for this. For his flight examination portion, Jiva confidently flew the Piper PA28 N6393C during his examination and impressed his FAA Designated Pilot Examiner with his incredible flight.
Jiva then proceeded to undergo his Instrument Rating training that took place in the USA. After training intensely for his check ride, Jiva has passed the FAA Instrument Rating Checkride smoothly, invigilated by Dennis Magdaleno, DPE, on June 10th, 2019. Jiva has done several approaches during his check-ride including ILS, VOR, Holding and Procedure Turn in the Oxnard and Camarillo Airport, California. For his IR Check-ride, Jiva flew the Piper Warrior N6393C. His ground training included POES that was done prior to his flight training.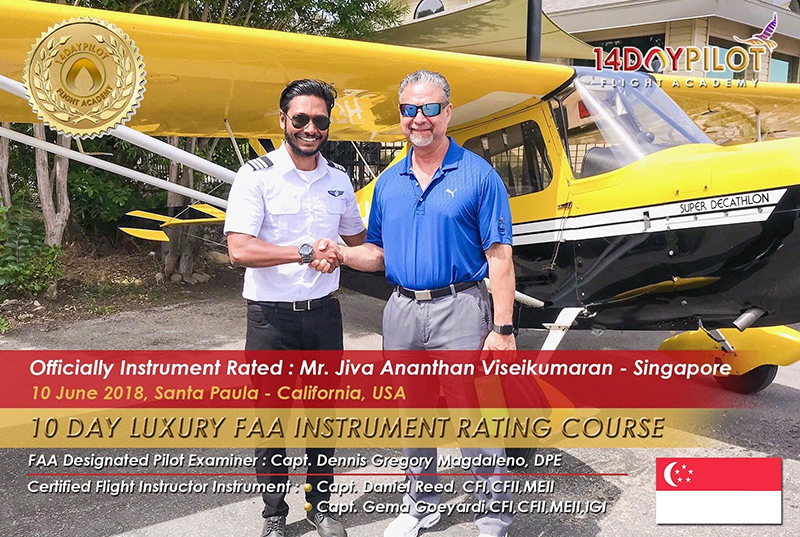 POES is a specially designed program created by 14DAYPILOT Flight Academy to help student pilots to pass their Written and Oral examinations with flying colours. The POES program helped Jiva find his second nature in his Instrument Rating skills even before he began with his real trainings. With previous trainings, Jiva was also vastly familiar with ATC communications which helped greatly with his Instrument Rating Knowledge, in which he scored a hefty 96%.
Breaking world record CPL-IR
Last, but hopefully not least in his journey, Jiva Ananthan has finally completed his CPL-IR training, marking the end of his APIT program. During the training, the school assigned to him 3 dedicated senior flight instructors and 2 designated airplanes that were available to him every day for 24 hours. He studied for over 14 hours each day and did a flight training portion averaging to 6 hours daily including the time building phase.On June 27th, 2019, Jiva Ananthan earned his Commercial Pilot License with Mark Nathan Boss, DPE as his examiner for the CPL check-ride.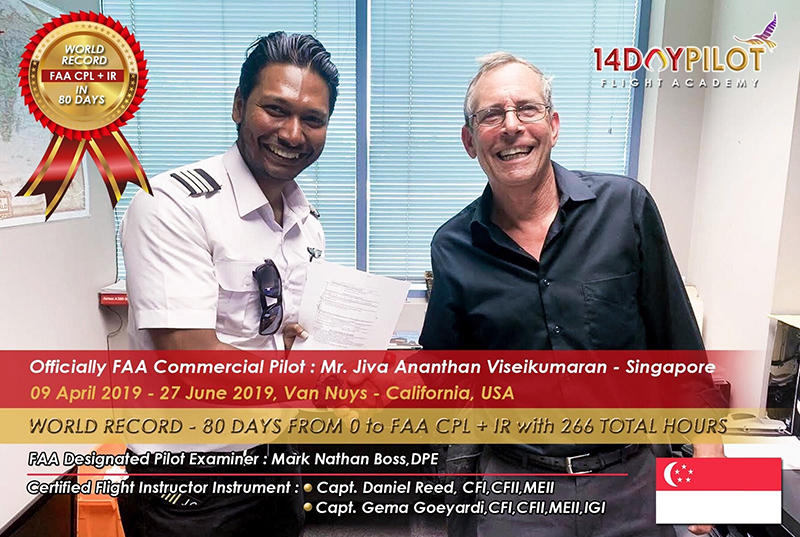 With a total of 266 hours and completing the program in 80 days, Jiva has proven to be a hard-working individual that has broken a world record and we can't be more proud! This is the story of Jiva Ananthan Viseikumaran, a Singaporean Army Captain who went from zero to becoming an FAA CPL-IR Pilot with a total of 266 hours. We hope that his journey in the aviation world does not end here and we cannot wait to see what he will conquer next! Good luck, Jiva! We are rooting for you, always.